A PDF with a template to print for this project is at the bottom of this post.  If you don't have anything to make your circles for this project a template is included in the pdf file.
I made these Polish Star Ornaments this year (aka Polish Porcupine Ornaments) these were so easy to make and they look fantastic on the tree.  While watching tv at night I made about 20 of these, I'm definitely going to make more of these next year!!  This year I made mainly white ornaments and a few brown (from brown shipping paper).  Next year I will make more in  silver and some in aqua for my silver, white and aqua tree.   I hope you enjoy these as much as I do!  Give them a try next year you won't regret it!  I used some on my trees and gave some away with Christmas gifts!  They were a big hit 🙂
To make one of these ornaments you will need:
A pen or pencil (to form the points)
Something sharp to poke a hole through the center of each piece of paper, I used a lobster pick, a toothpick would work too if you use a compass to draw your circles you can use that to poke a hole through the circles of paper.
Scissors
White Glue (to glue the points)
Jewelry Cord (to hold the pieces together, string, twine, ribbon etc can also be used)
2 Jewelry spacing beads (to keep the cord on both ends taught)
5 Sheets of 8.5 x 11 Paper (wrapping paper, printer paper, brown shipping paper etc)
A Compass or object you can use to draw around about 4″ wide, I used a candle
A Compass or object you can use to draw around about 1″ wide, I used a coin
1.  Use your 4″ circle (I used a candle that is roughly 4″) and draw 4 circles onto a piece of paper then use your 1″ circle (I used a coin) and draw the inner circle in the middle of the larger circle. Do this on 5 pieces of 8.5 x 11 pieces of paper for a total of 20 large circles.  Or use the template at the end of this post.
2. Cut the larger circles out.  Then Fold the circle in half, fold a second time in half (1/4), then a third time in half (1/8).
3.  Open your circles up you will see the center of your circle punch a tiny hole out there I used a lobster pick, you can use anything that is slightly sharp, a toothpick even!
4. Cut each line to the smaller circle. You can see in the photo above where the cuts are made.
5. Put a small dab of glue on the point of one tab, then wrap the tab around a pencil or pen hold in place for a few seconds so the glue sets, do this for all 8 tabs.
6. Slip a spacer bead onto your jewelry cord halfway down the cord (you can also use string, twine, thin ribbon etc, I just happened to have elastic jewelry cord on hand) I didn't take a photo of this so I had to draw a diagram for this part.
7. Draw both ends of the cord together, slip both ends through your first piece of paper making sure this piece of paper has the point side facing up so the bead is on the back side (see photo below), then slip both ends through the rest of your pieces of paper with the points facing down (opposite of the first piece you put on see photo below) do this for all remaining 19 pieces of paper.
Points Facing Up:

Points Facing Down:
8 After putting your last piece of paper onto your cord, put your second spacer bead through one side only of the string, pull both strings taught so it will cause the pieces of paper to scrunch together, then tie the string into a knot where the spacer bead is.
9. Tie another knot where the two ends of the cord meet, that will create your loop to hang the ornament on your tree!
 You can print a template from this pdf file  Polish Star Ornament Template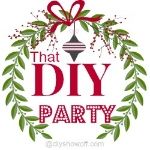 You may also like this ornament
Linking up at Setting for four